The Australian Seed Federation (ASF) is the peak industry body for the Australian seed industry at the local, state, national and international level.
The ASF also represents its members internationally, as a member of the International Seed Federation (ISF) and the Asia Pacific Seed Association (APSA).
The ASF strives to deliver Sustainability, Leadership, Integrity and Collaboration on key issues including climate change adaptation, world food security, technological developments, trade, and the growth in productivity of Australian and international agriculture, through the delivery and supply of new and improved commodities and services to the market.
ASF Vision
A seed industry that drives productivity and sustainability in Australia and the world.
ASF Mission
To maintain and protect the sustainability of ASF members and the industry it represents through leadership, integrity, and collaboration.
ASF Strategic Plan 2019-2024
The ASF is pleased to provide our 5-year strategic plan which includes our Core Values, Key Deliverables and Structure of the Federation.
Please click on – ASF Strategic Plan 2019-2024
---

ASF Board of Directors
President: Ms Rowena Petrie, Royston Petrie Seeds
Ms Rowena Petrie is the Managing Director of Royston Petrie Seeds, a family owned, wholesale supplier of seeds based in Mudgee, NSW. RP Seeds supply to nurseries, commercial growers, revegetation companies, wholesalers, market gardeners, primary producers and home gardeners in Australia and Overseas.
Ms Petrie is a respected name in the seed industry with a vast knowledge of seed cultivation and supply. Seeds, and the plants that grow from them, have been a passion of hers since she was a child, a passion she inherited from her father Royston Petrie. Ms Petrie is an advocate for seed industry training and passionate about passing on her wealth of knowledge to the next generation.
Immediate Past President: Mr Tim Pepper, Barenbrug
Mr Tim Pepper is currently Southern Region Commercial Manager for Barenbrug. Starting his seed career as a retail pasture advisor in SW Victoria before moving to Adelaide for love were he worked for Adelaide Seed Company for a short period before moving to CRT 1995. Since then, Mr Pepper has held state or national roles in IAMA, Landmark, PlantTech, Seedmark and Heritage Seeds most recently National Marketing manager for Heritage Seeds before his current role.
Mr Pepper believes that we all need to contribute to the future and sustainability of the seed industry and primary production in general. Mr Pepper has been active in several industry and farmer groups including being president of Grasslands society of Southern Australia, a Director of the Pasture Trials Network and member of the Plant Breeders Right consultative group.
Vice President: Mr Tim March, Rijk Zwaan
Mr Tim March is currently Business Manager Oceania and South & East Asia at Rijk Zwaan, where he focuses on research and development activities across the region. Prior to this, he worked in a national cereal plant breeding programme in Australia and in publicly funded plant breeding research projects across Europe and Australia.
Tim studied a Bachelor of Biotechnology and PhD in Plant Science at the University of Adelaide, later completing an MBA. He is a graduate of the Australian Institute of Company Directors.
Tim is a strong advocate for the role the Australian Seed Federation plays in representing the seed industry. He previously chaired the ASF Horticulture Working Group.
Vice President: Mr Dale Skepper, RAGT Australia
Mr Dale Skepper is currently the General Manager at RAGT Australia. Mr Skepper is an agribusiness senior executive with over fifteen years experience in a range of roles in the Australian seed industry, including sales, marketing, supply chain management, and R&D.
Director: Mr Kenneth Cunliffe, AgEtal Pty Ltd
Ken has a passion for biology and is nearing 40 years of experience in the seed industry. This is reinforced with a degree in agriculture and an MSc. Ken has many years of field research, agronomy, and seed and grain testing experience. Ken has been the Chair of ASF Northern Region since 2022 and is a member of the AgForce Grains Council.
Director: Ms Michelle Lench, S&W Seed Company
Michelle manages the high paced Australian Customer Service Team and the International Shipping team at S&W Seed Co. She has a Masters in Logistics and Supply Chain and uses these skills as a committee member for the Industry Advisory Panel for Supply Chain – Australian Institute of Business and SA Chapter of the Australian Arab Chamber of Commerce. Michelle is a graduate of the National Farmers' Federation Diversity in Agricultural Leadership Program.
---
ASF Regions

Western Region Chair: Mr Glen Liebold, Living Seeds
Southern Region Chair: Mr Craig Myall, Synergy Seeds
Eastern Region Chair: Mr James Whitely, Australian Grain Technologies
South Eastern Region Chair: Mr Mick Ahearn, Advanced Seed
Northern Region Chair: Mr Ken Cunliffe, AgEtal
---
ASF Working Groups
Science and Technology Working Group
The Science and Technology Working Group's focus is on providing members with the latest developments in agricultural science and technology. The group sees regular involvement from key government and industry stakeholders to collaborate on projects and work to tackle issues locally and globally.
Turf and Lawn Seed Working Group
The Turf and Lawn Seed Working Group's focus is on the local testing and development of turf and lawn species. The group are responsible for the Australian National Turfgrass Evaluation Program (ANTEP) which is run to evaluate traits such as colour, density, seasonal growth, wear tolerance and spring transition.
Horticulture Working Group
The Horticulture Working Group's focus is on providing members with the latest developments in the horticulture space locally and globally. The working group collaborate with government and industry to educate members and the public on topics such as Plant Breeders Rights (PBR), biosecurity and seed movement.
Education and Training Working Group
The Education and Training Working Group's focus is to investigate and deliver programs which can build member skills, with a focus on developing and nurturing younger members. The group also works to improve the profile and presence of the ASF.
Native Seed Industry Working Group
The newly formed Native Seed Industry Working Group's focus is on the Australian Native Seed sector. The group provides members with updates, relevant news and industry opportunities for native seed companies across the country.
Temperate Grass Seed Producers Group
---
ASF Secretariat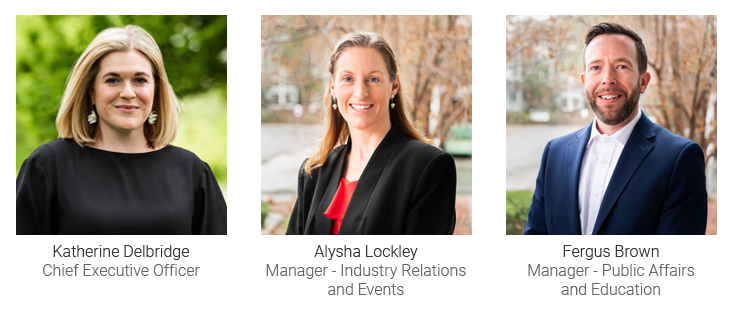 Chief Executive Officer, Ms Katherine Delbridge
Manager – Industry Relations and Events, Ms Alysha Lockley
Manager – Public Affairs and Education, Mr Fergus Brown
For more information please contact the Australian Seed Federation on (02) 6282 6822 or enquiry@asf.asn.au.
---
ASF Corporate Sponsorship
Are you interested in being an annual corporate sponsor of the ASF?
We have developed a corporate sponsorship package which provides companies and organisations annual promotion and exposure as a corporate sponsor of the ASF. Please click on the link below for more detailed information.